FLIGHT OF FIRE IS:
Maverick –
Vocals, Backing Guitar, Keys, Fiddle
Tanya Dmuchowski –

Lead Guitar, Backing Vocals, Flute
Tia Dmuchowski –

Bass, Backing Vocals
Shaina Mikee Keiths -

Drums, Backing Vocals
Comprised of four vivacious, accomplished women, this dynamic and passionate band explores the musical textures of upbeat hard rock, emotional folk rock, and complex symphonic rock, creating the fresh, progressive sound that is Flight of Fire. Equipped with a dynamic lead vocalist, belting beautiful melodies with power; identical twin sisters creating a harmony of electrifying guitar leads and nasty bass grooves; and a woman of mind-blowing rhythmic inspiration keeping the pocket tight, Flight of Fire is a force to be reckoned with.
The Flight of Fire Story…


Leaving their footprints in the Detroit music scene from years prior, the fall of 2009 brought "The Twins", Tanya and Tia Dmuchowski, slinging a guitar and a bass respectively, to journey from their home in Detroit and forge their way into the world of rock. Since they were 13, they had been studying the greats of classic rock, their inspiration ignited by the techniques of Jimmy Page and Geddy Lee, as well as by the evolution of modern rock that was growing up around them. Their years of experience playing in multiple bands, in numerous bars and venues all over Michigan would prove to be just what they needed to be accepted into the prestigious Berklee College of Music in Boston.
Maverick, a singer/songwriter from California who had also just begun her studies at Berklee, was starting her new life in a new city. Also an accomplished guitar, violin and piano player, she was determined to find her musical soul mates as soon as possible; her heart was set on making her voice and her songs known to the world. One night on the subway, Tanya's ears perked up as a voice began to belt "Foreplay/Long Time", by Boston, at full projecting volume. The dauntless voice belonged to none other than Maverick. Soon after that midnight meeting, the twins and Maverick were in the Berklee rehearsal spaces rocking out and building the foundations for Flight of Fire. Sheik, also a student at Berklee and a friend of the twins, offered his services as a drummer. Highly influenced by classic rock artists such as Led Zeppelin, Rush, Journey, Heart, Joan Jett, The Runaways, The Beatles, The Who, Cream and The Rolling Stones, as well as singer/songwriters like Paul Simon and Adele, Flight of Fire has varied inspiration contributing to their unique sound – rooted in time-tested rock with a fresh, modern flavor. After months of playing together in Boston and the twins' hometown of Detroit, the band headed to Sheik's home studio on Martha's Vineyard to record their first full-length album. Ten days and thirteen tracks later, the recording sessions were complete. Their album, Ascended From Ashes, was released in September of 2011. Flight of Fire then recorded and released their first music video, "Chasing The Storm"; filmed both at Revere Beach in Massachusetts and in an abandoned warehouse in downtown Detroit. After another year of gigging and songwriting, Flight of Fire was ready to begin their second album, Shatter The Sky. With the knowledge and training received at Berklee College of Music, Flight of Fire was prepared to take their music to the next level, with more developed songwriting, higher quality recording and production, and professional representation. Shatter The Sky was released in August of 2013, and immediately began to receive radio play on multiple stations in Detroit.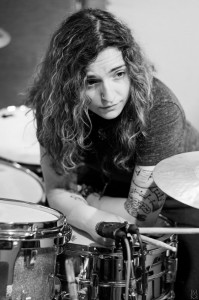 Soon after the release of Shatter The Sky, Flight of Fire welcomed Shaina Mikee Keiths – a Zildjian co-endorsed drummer whose musical history is quite impressive – Shaina has played in numerous rock bands, supporting national acts including Jefferson Starship, has recorded with The Beaver Brown Band and Tavares and performed with Megadeth bassist, David Ellefson. Shaina is under the private instruction of Jackie Santos, drummer for Tavares, The Beaver Brown Band, Chuck Berry, and he has toured with such artists as Ray Charles, The Beach Boys, The Jackson 5 and Joan Jett and The Blackhearts. With their new, hot album under their belt and their all-female, all-singing lineup, Flight of Fire's following has increased, opening for national acts such as Bon Jovi, The J. Geils Band, and The Michael Allman Band. Their summer 2013 tour, promoting Shatter The Sky, took them from Boston and Detroit, where they were already boasting a large following, all the way to Florida, where they were well-received and exploded onto the Florida music scene.
The members of Flight of Fire feel passionate about influencing the music industry away from music that demeans women, LGBT individuals and other persecuted groups and towards honest, inspiring music that encourages integrity and acceptance. They hope to follow in the footsteps of their idols – Joan Jett, Janis Joplin, Ann and Nancy Wilson and Stevie Nicks, and to make their own impact, inspiring girls not only to take up instruments and rock in a male-dominated field, but to live more emboldened, intrepid lives. With future tours currently being booked, and new music always being written, Flight of Fire is a force to be reckoned with.
Look for the Phoenix and let the skies burn.